Despite the stress I sometimes (often!) encounter whilst sewing, I decided I was going to make a tutu for my daughter.  She wanted to dress up as Princess Daisy from the Tiara Club books for school book week. 
When I heard this news I instantly slipped into the romantic notion I have of myself as a mother.  The one where, not unlike Michelle Pfeiffer in 'One Fine Day', I am able to create a fancy dress outfit out of thin air.  My desire and imagination far outstrips my talents in almost every area of my life! 
I was egged on by my daughter as I had already agreed to make a tutu for a friend, whose daughter was running the Race for Life.  However, with this one I had gone for the no-sew option and things went relatively smoothly producing a perfectly acceptable item at the end: :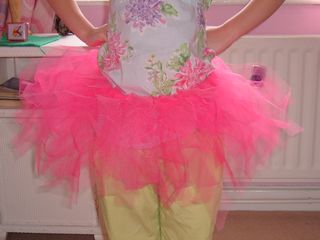 "I'll make you a tutu too!" I said to my daughter.  This made us a little hysterical - you have to say it out loud to understand!
I cannot say how long it took to make it - or rather I won't.  But after much frustration and dismay I arrived at this: :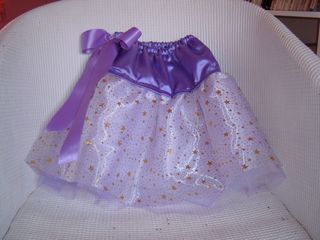 But it looked much better like this: :